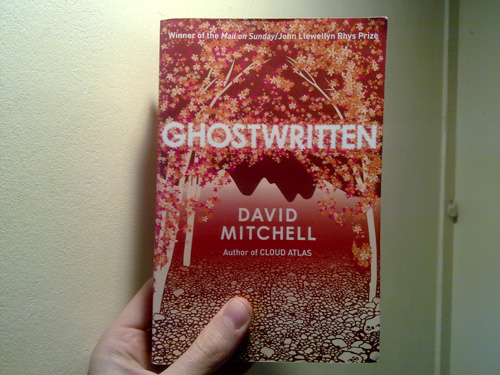 A great selection as played by Bat Segundo on Night Train FM, 97.8 til late in
Ghostwritten by David Mitchell.
This show contains music from the chapter Night Train put into a listenable playlist by Slamster.
Best enjoyed whilst reading the book. Available here.
For promotional purposes only. Subscribe to the podcast using the RSS logo above, and feel free to leave comments.
Every Story Pleases
Tracklist:
Satellite Of Love / Lou Reed / Transformer,
Sakura Sakura / Stanley Clarke Trio / Jazz in the Garden
(This song is actually played by the character Saturo Sonada from the Tokyo chapter, but this jazz version featuring Japanese pianist Hiromi fills his shoes nicely),
It Never Entered My Mind / Chet Baker / Chet,
In My Hour of Darkness / Gram Parsons / GP & Grievous Angel,
Downtown Train / Tom Waits / Rain Dogs,
Stringman / Neil Young / Chrome Dreams,
Jokerman / Bob Dylan / Infidels,
Superman / Barbra Streisand / Superman,
World Gone Wrong / Bob Dylan / World Gone Wrong,
Misterioso / Thelonious Monk / The Columbia Years (1962-1968),
Anima / Milton Nascimento / Anima,
Saudade fez um samba / João Gilberto / Chega de saudade,
After The Rain / Duke Pearson / Sweet Honey Bee
(In the novel it is a version of the song by Duke Jordan that is played by Bat, even though Duke Jordan didn't record one! Duke Pearson steps in here with his version, as it is also listened to by Saturo in Tokyo),
Bigmouth Strikes Again / The Smiths / The Queen Is Dead,
Who wants to live forever / Queen / A Kind Of Magic,
Still Crazy After All These Years / Paul Simon / Still Crazy After All These Years,
Julia / The Beatles / The Beatles,
I Say A Little Prayer / Aretha Franklin / The Best Of,
The Way Young Lovers Do / Van Morrison / Astral Weeks,
Speed of the Sound of Loneliness / Nanci Griffith / Other Voices, Other Rooms,
Fairytale Of New York / The Pogues / The Best Of,
I Cover The Waterfront / John Lee Hooker / The Ultimate Collection,
Wild Mountain Thyme / The Byrds / Fifth Dimension,
Going To California / Led Zeppelin / Led Zeppelin IV,
Here Comes The Sun / Beatles / Abbey Road.
Tokyo coming soon.